In preparation for the construction of the Innovative Maker and Learning Complex (IMLC), a portion of the circulating books currently housed in Wallace Library were relocated to Offsite Collections between January 25, 2021 and March 5, 2021.
Estimated Timeline
Last updated March 9, 2021
January 25 - February 5: Fourth floor — COMPLETE

February 4 - February 26: Third floor — COMPLETE

February 26 - March 5: Second floor — COMPLETE
Books Remaining in Wallace Library
The college liaison librarians have carefully selected titles to remain in Wallace Library, based primarily on usage data and program needs. Librarians considered many factors when making these decisions, including RIT academic programs — especially new or expanding programs, foundational texts in each discipline, and whether the information for the topic is up to date.
Circulating books that will remain in Wallace Library include:
Recent purchases

Heavily used titles

Majority of Art (N-NX) and photography books (TR), which are seldom replicated electronically and are heavily browsed on a daily basis

Other titles selected by the liaison librarians
What to Expect During the Move
Some noise as professional movers work through the stacks and student employees shift remaining books on weekdays between 7:30am and 6:00pm. Refer to the project timeline above for the anticipated time frame by floor.

Frequent use of the back elevator as books are moved. Visitors are encouraged to use the front elevator when possible, but the back elevator will remain available for access to the 4th floor.

The stacks will remain accessible during the move. Book pickup service and campus delivery to faculty/staff offices are also available for RIT community members.
How to Access Books in Offsite Collections
Books in Offsite Collections can be identified in the library catalog by looking under Location in the item record.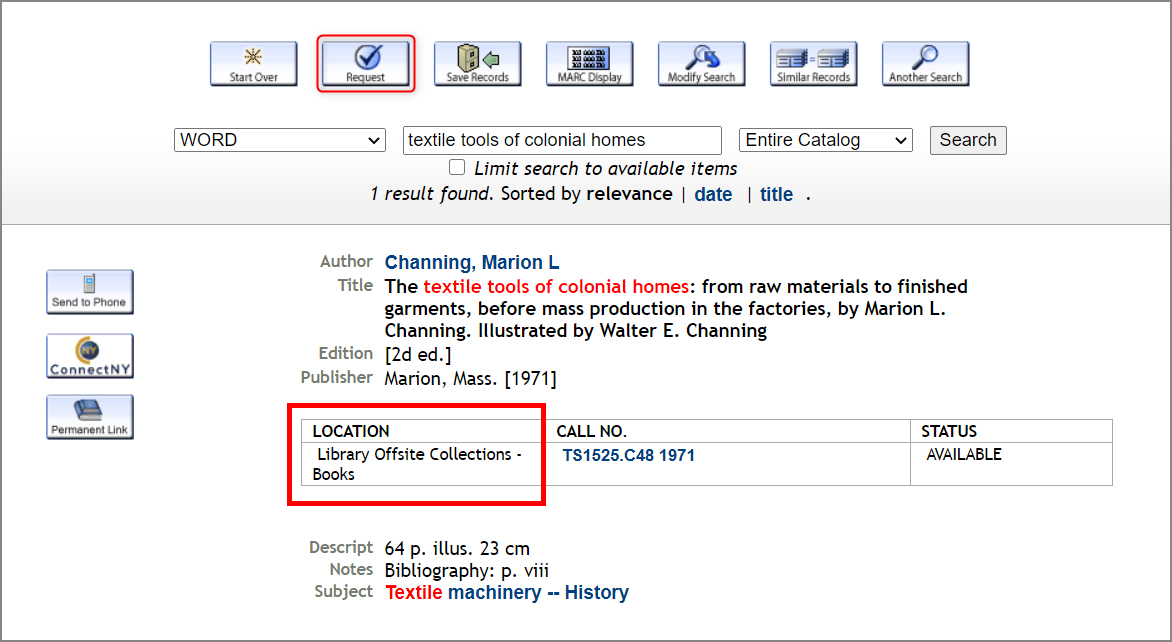 To request an item from Offsite Collections, click the request button in the catalog. You will be able to pick up the book at the Circulation Desk within one business day. (See full tutorial.) The Offsite Collections facility can not accommodate visitors to browse the collections, but library staff will be happy to retrieve multiple books for you.
To request articles from bound periodicals that are already in Offsite Collections, use IDS Express.