NOTICE
This site is no longer being updated and may be out of date with current information. Please go to the new URL at rit.edu/library
Construction on Wallace Library began in Summer 2021 and is expected to last about two years. The circulating collection and some public services have relocated to "Wallace On Ice" (Ritter Ice Arena) for the duration of construction.
Now Available at "Wallace on Ice"
The following library services and resources are available in Ritter Ice Arena, beginning in Fall 2021 through the duration of construction on Wallace Library: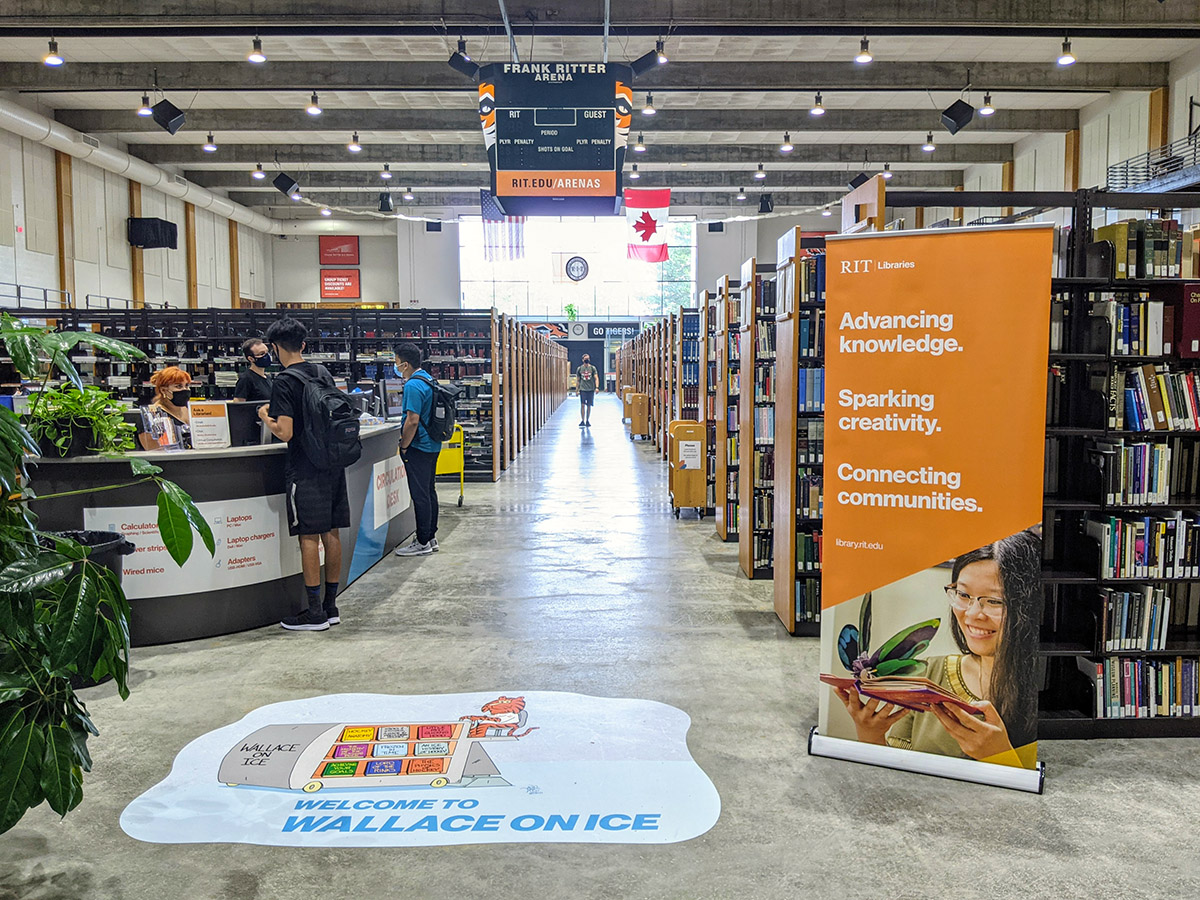 Access to Physical Library Resources
The circulating collection is open for all RIT faculty, students, staff, and alumni to browse. Interlibrary loan materials and other items from RIT Libraries' circulating collection are also available for pickup in Ritter 1-3 business days after submitting an online request.
You can also book an appointment to use the microfilm reader in Ritter. All microfilm is now located in Offsite Collections, so please request any microfilm that you need in advance and wait until you receive the notice that it has arrived before booking your appointment.

Research Help
Subject-specialist librarians are available virtually for research questions and consultations using any of the following methods:
Special Collections
The Cary Graphic Arts Collection (2nd floor) and RIT Archives (3rd floor) have relocated within Wallace Library to a new, temporary space with proper environmental controls on the west end of the second floor. These collections are available for scheduled in-person visits and classes as of October 25, 2021. To request an appointment, email Cary staff or email Archives staff.
Both departments also remain available for virtual reference questions:
RIT Press
RIT Press is closed and can not accommodate walk-in customers at this time. RIT Press staff remain available via email. Orders can be placed online through their website and will ship within 1-3 business days. RIT customers may select in-store pickup as a shipping option and email ritpress@rit.edu for interoffice mail delivery at no charge.
Email ritpress@rit.edu or submit the online contact form with any questions.

Other Service Points in Wallace Library
The Innovative Learning Institute and Teaching and Learning Services remain open in the A level of Wallace. For in-person visits, please go to A650.
The Writing Commons (1st floor) and Expressive Communication Center (2nd floor) have relocated to A600 on the A Level of Wallace Library.
The RIT ASL and Deaf Studies Community Center (RADSCC) (1st floor) has relocated to the Gordon Field House, Room 1540, during construction.